10th December 2018
Although Donald Trump described last Saturday's (1 December 2018) meeting with his Chinese counterpart, Xi Jinping, as a "BIG leap forward" after they agreed a 90 day truce, equity markets were disappointed by the lack of specific details.
Compounding this negativity was news that Wanzhou Meng (Huawei's Chief Financial Officer) had been arrested in Canada (at the request of the US Department of Justice) over alleged violations of US sanctions on Iran. This provoked outrage from China and further highlighted that trade tensions between the world's two largest economies are far from resolved.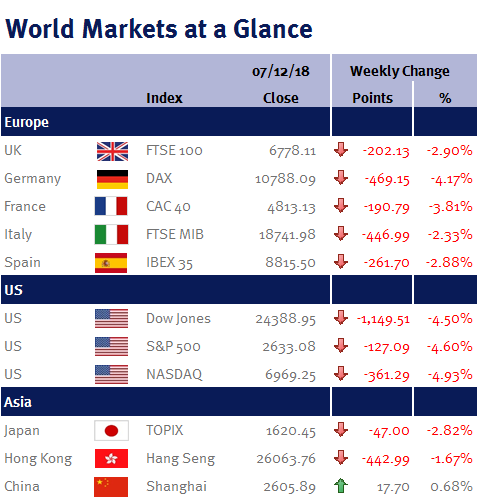 However, I think we need to put things into perspective: while I accept the timing was very unfortunate, I find it hard to believe that the Chinese authorities will use someone breaking the law as a reason to stop trade talks with the US, especially as the Chinese economy is showing signs of slowing and there are hundreds of billions of dollars' worth of Chinese exports at stake.
Furthermore, Wanzhou Meng was arrested while Donald Trump and Xi Jinping were talking in Buenos Aires – so if the Chinese were really that upset, they wouldn't have been sending all the positive noises that they have done over the past couple of days (China confirmed that it had reached deals in agriculture, autos and energy – and is restarting imports of US soybeans and LNG).
On Brexit, while this week's Parliamentary vote found the government in contempt, we have always known that Theresa May faces an uphill battle to get her Brexit deal passed.
However, the Parliamentary vote does suggest that if Theresa May's plan (even with plenty of tweaks to persuade MPs to back it), still doesn't get passed this Tuesday (11 December 2018), it is more likely that we will have no Brexit rather than a no-deal Brexit, given the majority of MPs are opposed to a no-deal Brexit.
Additionally this coming week, we have an ECB monetary policy meeting; US and Chinese CPI inflation and retail sales data; and UK GDP and employment data.
Ian Copelin, Investment Management Expert*
*Ian Copelin is an Investment Director at Wealth at Work Limited which is a member of the Wealth at Work group of companies