12th November 2018
The media has been in a frenzy all week. Hot off the 'excitement' that there will be a Spice Girls reunion tour, interest in the US midterm elections was unusually high as Donald Trump has managed to fire-up both those from the left and right.
It is worth noting that midterm elections are often unkind to the sitting President's political party (as most tend to lose House and Senate seats) and although the Democrats won the US House, Donald Trump's Republican party increased their influence in the Senate.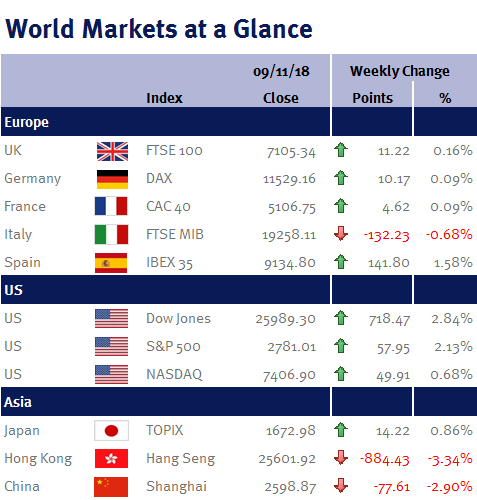 And interestingly, with the Democrats winning the House, it probably means that Donald Trump's infrastructure bill and plans for further tax cuts will be curtailed – and less fiscal initiatives means the Fed shouldn't need to significantly increase interest rates (which is good news for emerging markets equities in particular). Furthermore, with the Republicans retaining the Senate, it makes it unlikely that Donald Trump's tax cuts and easing of corporate regulation will be reversed, should the Democrats win the 2020 Presidential elections (which is good news for equities in general).
However, Donald Trump's trade policy is unlikely to be moderated as his belief that China has engaged in unfair trade and intellectual property practices is also shared by the Democrats.

With the midterm elections out of the way, my attention quickly turned to yesterday's (Thursday 8 November 2018) Fed monetary policy meeting. The meeting was the last without a press conference (starting from next year, every policy meeting will be followed by a press conference, which makes every monetary policy meeting a 'live' meeting). It was also probably the last before another rate increase as the Fed's message didn't change much: the US economy is in solid shape and job growth remains strong. While I appreciate that the task of getting monetary policy right is very complicated, as I have previously stated, I am concerned that too aggressive tightening by the Fed will slow the US economy too much.
After hitting 4 year highs at the start of October, the oil price continued to decline, with the price of Brent crude falling below $70 due to the outlook for rising stockpiles (the US issued sanction waivers to eight countries, allowing them to continue to purchasing Iranian oil) and slower economic growth.
We found out today (Friday 9 November 2018) that the UK economy grew by 0.6% in the third quarter (up from 0.4% in Q2), helped by consumer spending (which we know was boosted by the heatwave) and exports (due to the pound's decline). However, I wouldn't get too excited, as the monthly GDP data showed that September was flat (reflecting slower consumer spending and fewer car purchases) – so while the UK economy recovered nicely in Q2 & Q3 after a snow-impacted Q1, I believe the final quarter is likely to show weaker growth, given a slowing housing market, anaemic real wage growth and Brexit uncertainty.
Meanwhile, Chinese trade data showed a surge in exports and imports. However, don't assume that the trade war isn't hurting, as companies are probably front loading deliveries before the latest tariffs kick in.
It is a busy week ahead for economic data. Highlights include: UK CPI, PPI, retail sales and employment data (unemployment rate and weekly earnings); US CPI, retail sales and industrial production; eurozone GDP, CPI and industrial production; Chinese retail sales and industrial production; and Japanese GDP and industrial production.
Ian Copelin, Investment Management Expert*
*Ian Copelin is an Investment Director at Wealth at Work Limited which is a member of the Wealth at Work group of companies