15th October 2018
As you can see from the accompanying table, it hasn't been a pretty week, as a sea of red hit equity markets.
This was predominately due to trade war concerns and rising US yields (the US 10 year Treasury yield touched 3.259% on Monday 8 October 2018).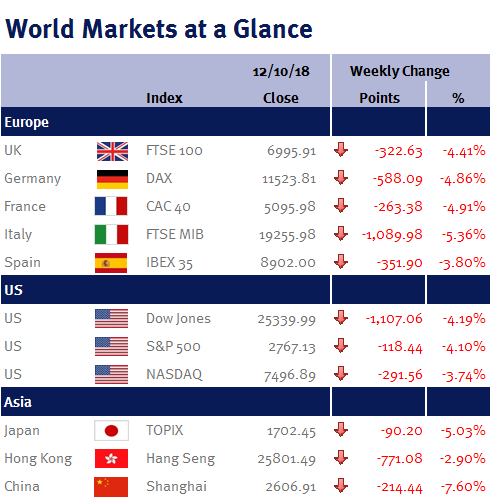 As usual, Donald Trump stole the show as he upped his rhetoric against the Fed, stating that he doesn't like their tightening campaign and that he thinks the central bank "has gone crazy".
Regular readers of my weekly commentaries will know that I have some sympathy with Donald Trump on this matter: while I don't think the Fed has gone crazy, I do believe there is a strong case that the Fed should be more patient in its monetary tightening. This is even more so given yesterday's (Thursday 11 October 2018) CPI inflation readings, as both the core and headline numbers came in lower than consensus expectations: CPI slowed to 2.3% in September from 2.7% in August, while the core CPI was unchanged at 2.2%. This suggests to me that there isn't a need to rush into further US interest rate increases, especially given the current market volatility.

However, despite my sympathy I do disagree with Donald Trump's public criticising, as it could in fact easily backfire by forcing the Fed to continue increasing US interest rates when they may otherwise be considering a pause, simply to demonstrate their independence.
On a positive note, Donald Trump is reported to have agreed to meet his Chinese counterpart, Xi Jinping during the next G20 meeting in Argentina at the end of November. If correct, this will be after the mid-term elections, so there will be little need for any of Donald Trump's posturing – which fingers-crossed means we may get a de-escalation.
While I appreciate that this week's correction in equity prices may be uncomfortable, I don't believe we are 'at the beginning of the end' of the bull market, as economic indicators and the overall outlook remains robust – and there are certainly no signs that a recession is on the horizon. As such, it is important not to overreact.
As for this coming week, it is slightly busier in terms of economic data. We have CPI inflation data from the UK, eurozone, Japan and China; retail sales for UK, US and China; UK employment data; and minutes from the last Fed meeting.
Ian Copelin, Investment Management Expert*
*Ian Copelin is an Investment Director at Wealth at Work Limited which is a member of the Wealth at Work group of companies